Are you an aspiring sailor looking to explore the magnificent seas of Dubai? Are you thinking about how much does it cost to rent a yacht in Dubai ? From grandiose palatial architecture and world-famous luxury shopping sites, to some of the most beautiful beaches in the world – sailing through Dubai's crystal clear waters may just be your dream vacation.
No matter what kind of yacht renter you are – whether a novice or experienced sailor – this guide will help you understand how much it costs to rent a boat for your next sea voyage!
Let's take a look at all that goes into planning and budgeting for such an amazing experience.
Sailing in Dubai is an amazing experience. The city is located on the coast of the Arabian Gulf, so there are plenty of opportunities to enjoy the water.
There are many yacht rental company available in Dubai, you can choose as per your demand and budgets.
The weather is usually perfect for sailing, with sun-filled days and cool breezes.
Why you should sail in Dubai ?
Sailing in Dubai is a great experience for many reasons. The first reason is that the weather is perfect for sailing almost all year round. The temperatures are typically in the 80°F and 90°F, but it can get a little bit cooler in the winter.
The second reason is that there are so many places to sail. There are plenty of open water areas as well as man-made canals and lakes. This means that there is always a new place to explore.
The third reason is that the scenery is beautiful. Whether you are sailing by the Palm Jumeirah or the Dubai Marina, you will be surrounded by some of the most luxurious buildings in the world.
The fourth reason is that sailing is a great way to see Dubai from a different perspective. You can see all of the famous landmarks and get up close to them while enjoying a relaxing breeze on the water.
The fifth reason is that there are always people sailing in Dubai. This means that you can always find someone to sail with and make new friends.
How much does it cost to rent a yacht in Dubai
It can be difficult to determine how much it costs to rent a yacht in Dubai. Some people may say that it is a very expensive venture, while others may claim that it is relatively affordable, depending on the size and type of yacht you are looking to rent. Generally speaking, however, yachts in Dubai do tend to be on the pricier side when compared to other locations around the world.
There are a few things that you will need to take into account when trying to determine the cost of renting a yacht in Dubai.
The first factor is the size of the yacht – obviously, larger yachts will come with a higher price tag than smaller ones.
The second factor is the type of yacht – rental prices can vary depending on whether you are looking for a sailing yacht, motor yacht, or catamaran.
And finally, the duration of your rental will also have an impact on the overall cost.
So what can you expect to pay if you want to rent a yacht in Dubai? Well, as mentioned earlier, prices can vary greatly depending on the size and type of vessel you choose. But as a general rule of thumb, you can expect to pay anywhere from Dh 350 to Dh 20,000 per hour for a basic yacht rental. Of course, this price can go up significantly if you are looking for something more luxurious or if you require additional services such as catering, party organizing and decorations.
So if you're thinking about renting a yacht in Dubai, it's important to do your research and compare prices so that you can find the best deal possible. And remember – just because something is expensive doesn't mean it's automatically worth it! So take your time and make sure you find the perfect yacht for your needs and budget.
You can have a look our Elite yachts also.
Why Elite Luxury Yachts are Perfect choice for the customer ?
Elite luxury yachts have been a popular choice among those looking for a special and memorable experience for some years now. The superior level of comfort, service and luxury afforded by such vessels make them the perfect choice for an extraordinary vacation or special occasion. Boasting spacious accommodations, top-of-the-range entertainment systems, bespoke catering and an exceptional crew to attend to your every need, these yachts offer experiences beyond the ordinary. Add to this the fact that with surprisingly competitive prices – How much does it cost to rent a yacht? Prices can start from as low as AED 400 for one hour to AED 800 in Dubai.
Pricing & Service inclusions
Majesty 56 Ft Yacht
Yacht Rental Dubai
Azimut 50 Ft Yacht
Yacht Rental Dubai
Majesty 48 Ft Yacht
Yacht Rental Dubai
Majesty 44 Ft Yacht
Yacht Rental Dubai
Oryx 36 Ft Yacht
Yacht Rental Dubai
Silver Craft 36 Ft Yacht
Yacht Rental Dubai
Gulf Craft 31 Ft Yacht
Yacht Rental Dubai
If you want to sail with more luxurious yacht then you can consider our Elite Super Yachts.
Tips for finding best deals when renting a yacht
When renting a yacht, it is important to find the best deals possible. There are a few things that you can do to make sure that you are getting the best deal possible. The first thing is to shop around. Compare prices from different companies to see who has the best deal. You should also ask around for recommendations. Friends and family members who have rented yachts in the past can give you some great tips on where to find deals.
Another thing to keep in mind when renting a yacht is the time of year. Prices tend to be higher during November to April because this time temperature little bit cool in Dubai. If you are flexible with your dates, you may be able to save some money by renting a yacht during the off-season.
Finally, be sure to ask about any discounts that may be available. Many companies offer discounts for early bookings or for booking more than one day at a time. By taking advantage of these discounts, you can save yourself a lot of money on your yacht rental Dubai.
Which Activities you can enjoy while sailing ?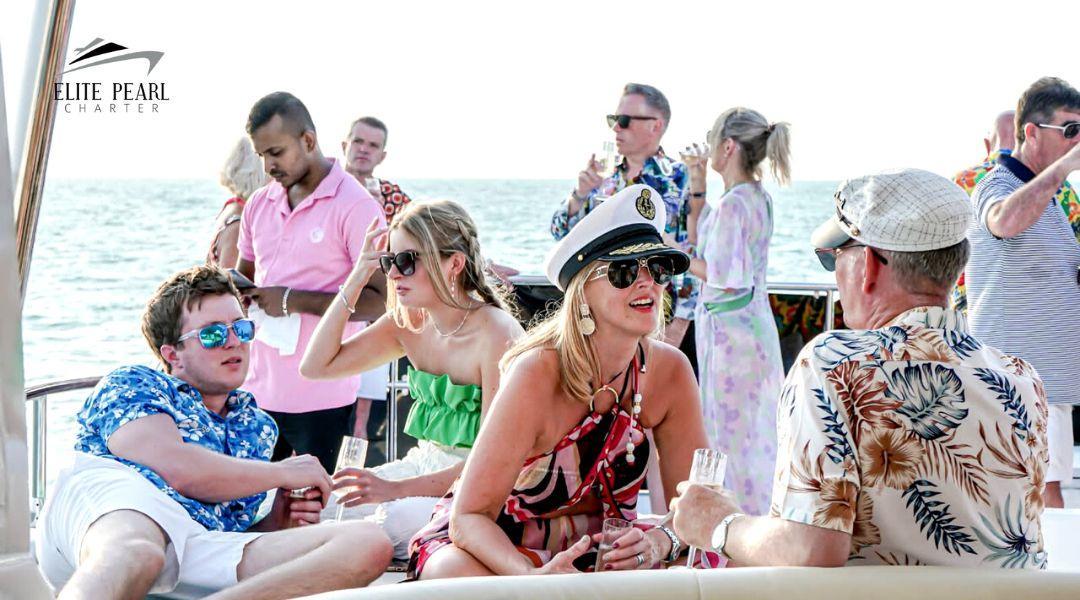 Dubai is a city that is constantly alive with activity. From the world's tallest building, to luxury shopping and endless amounts of restaurants, there is always something to do. However, what many people don't know is that Dubai is also a great place to sail.
There are a few different places where you can rent boats and sail in Dubai. The best place to start is at the Dubai Marina. There you will find all sorts of boats for rent, including catamarans, yachts, and speedboats. Sailing in Dubai Marina offers beautiful views of the cityscape.
If you're looking for a more adventurous sailing experience, then head to the Gulf of Oman. This area is known for its strong winds and high waves, making it perfect for surfing and windsurfing. There are several spots along the coast that are great for sailing, including Jumeirah Beach, Bluewaters Island,The Burj Al Arab,The Worlds Island, Nikki Beach, Sir Bani Yas Island and Al Mamzar Beach Park.
No matter what your sailing experience level is, Dubai has something to offer everyone. So next time you're in Dubai, be sure to check out one of the city's sailing spots for an unforgettable experience.
If you're looking for a luxurious and unique way to spend your vacation, look no further than renting a yacht in Dubai. Not only will you be able to enjoy all the activities that come with sailing, but you'll also get to take in the stunning views of the city. And with Elite Pearl Charter, you can be sure that you're getting the best deal possible on your rental. So what are you waiting for?
Contact us today and start planning your dream vacation!