How to have the perfect charter yacht in Dubai ?
Are you looking for an unforgettable experience on your next holiday? Look no further than chartering a yacht in Dubai. This beautiful city is home to the world's largest yacht fleet, making it a prime spot for those seeking luxury, relaxation, and adventure. With warm weather year-round and crystal clear waters reflecting its iconic skyline, diving into all that Dubai has to offer from the sea can be truly mesmerizing. So hop on board and let's explore how you can have the perfect yacht charter experience in this charming desert paradise!
Why you should charter a yacht in Dubai ?
When it comes to yacht charters, Dubai is one of the most popular destinations in the world. There are a few reasons for this: first, Dubai is home to some of the most luxurious and opulent yachts in the world. If you're looking for a truly luxurious experience, there's no better place to go than Dubai.
Second, Dubai is located in a prime location for yacht charters. Situated on the Arabian Gulf, it offers stunningly beautiful views and perfect sailing conditions. Whether you're looking to cruise along the coast or explore some of the nearby islands, Dubai is the perfect place to do it.
Finally, Dubai is known for its world-class luxury hotels and resorts. When you combine this with a luxurious yacht charter, you get an unforgettable experience that you'll never forget. If you're looking for an amazing vacation that's full of luxury and relaxation, then a yacht charter in Dubai is definitely the way to go.
Available Type of Yachts in Dubai
There are many different types of yachts that are available for charter. The size, shape and amenities of each one can vary greatly, so it's important to know what you're looking for before you start shopping around.
Some of the most popular types of yachts include sailing yachts, motor yachts and catamarans. Sailing yachts are typically the most luxurious option, and they often come with all sorts of high-end amenities, such as a Jacuzzi or a private pool.
Motor yachts are perfect for those who want to enjoy a more active sailing experience. They come with powerful engines that allow you to travel quickly and easily from one destination to the next.
Catamarans are also becoming increasingly popular, thanks to their spacious interiors and stable sailing performance. They're perfect for those who want to explore different islands and ports during their charter vacation.
How to choose the perfect yacht ?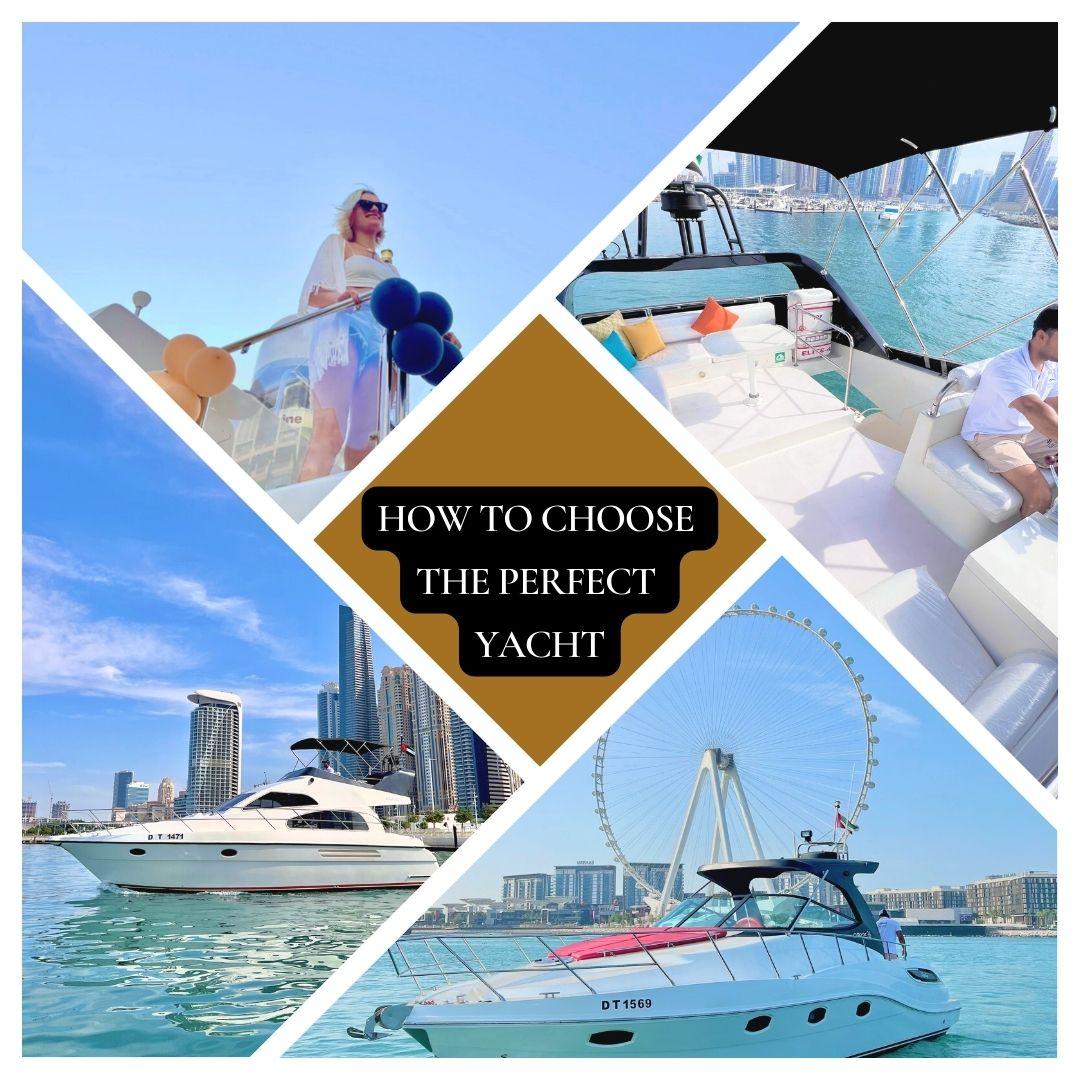 The first step in choosing the perfect yacht for your next vacation in Dubai is to consider your budget. There are a variety of yachts available for charter, ranging from small and affordable to large and luxurious. Determine how much you are willing to spend on your charter before beginning your search.
2. Decide on the size of the yacht
The next step in choosing the perfect yacht for your next vacation in Dubai is to decide on the size of the yacht. Do you want a small yacht that will be easy to maneuver, or a large yacht that will have plenty of space for entertaining? Keep in mind that the size of the yacht will also affect the price.
3. Choose the amenities you want
Another important factor to consider when choosing a yacht for your next vacation in Dubai is the amenities that you want. Do you want a fully-equipped kitchen, or would you prefer a simpler setup? What about a Jacuzzi or swimming pool? Make sure to choose a yacht that has all of the amenities you want in order to make your vacation as enjoyable as possible.
4. Select a reputable charter company
When you have decided on the budget, size, and amenities for your dream yacht, the next step is to select a reputable charter company. There are many charter companies operating in Dubai, so it is important to do some research before making your decision. Read online reviews and speak with friends or family who have chartered yachts in Dubai before to get recommendations. Elite Pearl Charter also has a good review in the Market. You can check our Google Reviews, TripAdvisor Reviews and Facebook reviews also. Before renting a yacht I will advise you to read this article !
Once you have found the perfect yacht and charter company, be sure to book early! Yachts are often booked months in advance, so if you wait too long, you may not be able to get the dates or availability that you want. By booking early, you can ensure that everything is set up for an unforgettable vacation in Dubai.
What you can do and which things can be enjoyed from the water ?
Dubai is a city that is constantly growing and changing. There are new attractions and activities popping up all the time, making it a great destination for a vacation. If you're looking for things to do in Dubai, here are a few ideas that can be enjoyed from the water.
One of the best ways to see Dubai is from the water. You can take a cruise on the Dubai Creek or a ferry ride down the river. Or, for a more adventurous option, go for a kayak or stand-up paddle-board tour. There are also plenty of yacht charters and sailing trips to choose from.
If you're looking to get out on the open water, there are plenty of places to do so in Dubai. The coastlines offer some beautiful views, and there are plenty of reefs and islands to explore. You can also head out into the Gulf of Oman for some deep-sea fishing or whale watching trips.
Why Dubai is ideal spot for a vacation ?
Dubai is a great place to charter a yacht for a vacation. There are many reasons why this vibrant city is a popular destination for yacht charters.
First of all, Dubai is located in the heart of the Middle East and offers stunning views of the Arabian Gulf. The city is also home to some of the world's most luxurious hotels and resorts, making it the perfect place to relax and enjoy your vacation. Dubai is also a major shopping destination, with some of the best malls in the world. And if you're looking for a little excitement, Dubai offers plenty of night-life and entertainment options.
Dubai is a truly unique destination and one that should be experienced with yacht rental Dubai at least once in a lifetime. By chartering a yacht in Dubai, you can see the city from a whole new perspective and enjoy all that it has to offer in luxury and style. There are many different types of yachts available for charter, so be sure to do your research and choose the right one for your needs. And finally, don't forget to take advantage of all the great things to see and do while you're in town – there's something for everyone in Dubai!